Looking to cut your monthly loan payments? For a limited time, Finex will refinance your auto loan 2% less than your current rate!
If your credit has been stable, this limited time sale can cut your monthly payment and interest rate. There are big savings or lower payments if you have a long- term high rate loan. Use our Auto Refinance Tool to Calculate a Lower Rate and a Lower Payment: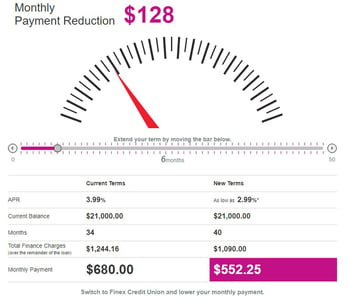 Plus, Receive $100 into your Axcess Checking Account when you refinance your auto loan with us.**
Higher interest rates on your car loan might be the result of dealer financing or credit issues. With this special offer, you don't need to keep paying more than you need to.
Questions? Contact us at lending@finexcu.org
Your rate and approval are determined individually based on the term of the loan, credit history and the specifics of the automobile being refinanced. Finex will finance up to 150% of the collateral value as determined by the credit union. Rates are subject to normal credit approval and subject to change without notice. Existing Finex auto loans are not eligible to for this promotion, New Money Only. Example rate based on minimum credit score of 730 and opening a Finex premier account. **Must have active Finex Axcess Checking Account with direct deposit.