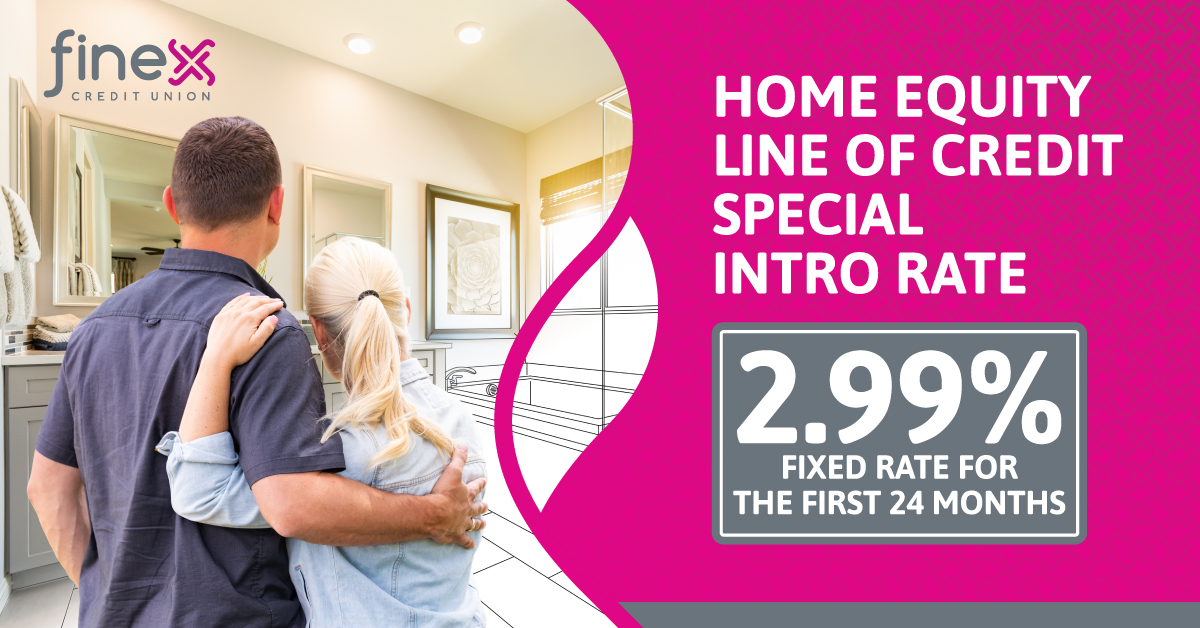 Low rate home equity credit lines to pay for a home improvement project, consolidating debt, college tuition, or other expenses.
We are focused on you. Finex Credit Union not only offers low rates, but unparalleled service. Let us help put your mind at ease with our flexible home equity solutions so that you can get the cash you need to pay for whatever expenses you may have.
Here are the benefits of choosing one of our home equity solutions:
24-hour approvals
No application fee

Variety of payments

Promotional 24-month fixed rate of 2.99% for Home Equity Lines
Are you ready to tap into the equity of your home today?
Get Started
*APR (Annual Percentage Rate) stated reflects an introductory 2.99% interest rate fixed for first 24 months for Finex members with A+ credit score, and 80% LTV. Your APR may be higher and will be based on the variable-rate index value in effect at the time of account opening, your credit qualifications, amount of the line of credit, loan-to-value ratio, and type of property. This APR may vary monthly. The variable APR that you will receive will range between Prime minus 0.50 percentage points and Prime plus 2.50 percentage points and will depend on the following factors: amount of credit limit received, lien position and location of pledged property. The Line must be in a first or second lien, secured by your 1–4 family primary residence. Sale terms effective 11/1/2020 – 12/31/2020. Finex Credit Union Membership Requirements apply.
Borrower is responsible for paying Home Equity Documentation Fee of $90 for Premier Members ($150 for General Members), required government taxes and fees at closing. During the 10 year draw period, your minimum payment will equal the interest only minimum payment, and other fees, charges and costs. Rates and programs subject to change without notice and the APR will not exceed 18%. Offer may be withdrawn without notice. Rates apply to new HELOC accounts and may not apply to existing HELOC accounts. Please consult your tax advisor regarding the deductibility of interest.