Start Building Your Credit Today with EXCEL24!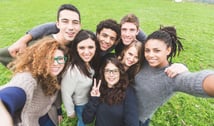 If you're looking to build your credit but aren't sure where to turn, Finex is here to help. Introducing our EXCEL24 account, where we help you build your credit while providing access to custom products and many amazing benefits.
Finances can seem very overwhelming and confusing at times. However, our EXCEL24 account is also meant to educate and guide you. If there's ever a time where you feel stuck and need help or have any questions, we here at Finex have the answers. Signing up is simple and easy.
Below are the unique benefits that EXCEL24 provides:
$200 Cash Rebate*± when you take your first auto loan with us.
Special savings account rate of 3%** with no minimum required
Student Credit Card or Secured Credit Card
Credit Score Updates and Advice
No Fees with this account when requirements* are met
The benefits of this account stay with you between the ages of 18 to 24 and when you turn 25 we will transition you into a similar account (minus the starter benefits below) if you continue to use our services.
There are also very few requirements. The only things needed are:
A minimum direct deposit of $200 for the month
An email address
A cellphone
And 3 debit card transactions a month
Questions? Contact us at help@finexcu.org
*Requirements: direct deposit minimum of $200 per month, use of eservices, and at least 3 debit card POS transactions each month. See checking disclosures for full account details. **APR rate compounded monthly will be paid on balances up to 3,000 if all requirements met. If not met, then basic share rate applies Above 3,000 rate of .2% applies. ***May not be combined with other promotional rates or rebates.