OFFER EXCLUSIVE TO AXCESS HIGH RATE CHECKING ACCOUNT HOLDERS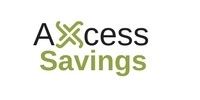 We have exciting news regarding your Axcess High Rate Account. We have created a high yield savings account, Axcess Savings, for additional rewards to pair with your Checking Rewards. If you earn High Rates now, you will automatically qualify for this new account.
For the first sixth months after you open an Axcess Savings account, you will receive 3% on balances from $10,000 to 100,000 GUARANTEED. After the 6 months are over, you will still enjoy a high rate that is top of the market. Remember this account is EXCLUSIVE to existing High Rate Checking account holders.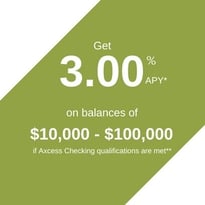 Its easy to Open an Account
Complete our easy account opening form.
A member of our team will send you a confirmation that your account has been opened. Axcess Savings is a sub-account of your checking that carries NO FEES. You can also set aside money below $10,000 with NO FEES.
Deposit your Funds right away.
Thats it! Open Your Account and Start Saving Today!
*3.000% Annual Percentage Yield (APY) paid on balances between $10,000 and $100,000, and 0.100% APY paid on all amounts above $100,000 each cycle the minimum requirements are met for Axcess High Rate Checking Account members for the first six (6) months of account opening. If you do not meet the requirements per cycle, your account will earn 0.10% APY End of promotion rate is determined. Promotional rates are valid for 6 months after account opening for new accounts/new money only. Rates will convert to Advantage Maximizer posted rates posted after 6 months. We may change the interest rate and APY at any time after the account is opened. Promotional rate is for New Accounts/New Money only.